end of October
I/we continue to be very happy with the new place, where we have by now been for four weeks. While the house near Cosmos where I lived, with different friends at different times, may have been in the best location in all of Kigali, it is strange to think, looking back, that I/we put up with the state that the house was in for ten years.
Talking of houses, I just picked up – finally – the title deed of a house in Karuruma that I bought, this time not for a friend but for a friend's (Eric's) family, which they are supposed to pay me back for over the next few years, after which it will be theirs. (As in my previous and other such deals, the interest rate we agreed on is good for me, and very very good for them, in view of what we could get or would have to pay elsewhwere.)
A very very bad experience for M and E, and pretty bad for their friends too, was when they were arrested because of a suspicion of having marijuana, when in fact they were only in the wrong place at the wrong time, while other people were getting arrested. For me the main worry was due to the fact that I was not sure if they were completely 'clean', because if they hadn't been, they might have ended up in prison for up to seven years. – The place, in Gikondo, where they were taken and spent four days – until their mothers' determined efforts and some help from me got them released – is truly terrible: though called a "rehabilitation centre", there seems to be practically no supervision from officials, and so the place is run by a hierarchy of bullies, equipped with sticks, which they use freely to beat others; the bullies control sleeping spaces, the sugar and salt for the porridge, and so on, and these have to be bought by the other inmates, for real money; even the use of the toilets is restricted to half an hour in the morning and half an hour in the evening; and so on. Having experienced both, M said that this place was much worse even than prison. – And most of the people who end up there, sometimes for long periods, especially if they have no one to vouch for them, have not been accused of any crime! In fact this is the same place where Roger was put for a miserable weekend, about six years ago, also without ever being charged with anything.
"How about the CoViD-19 situation in Rwanda?" I hear you ask. Well, the official figures look pretty good, with at present only about 200 active cases reported; I think they do represent the government's best information, but there may well be quite a few more cases and incorrectly reported deaths. Everyone is supposed to wear a mask outside their house, under threat of paying RwF 10,000 (about USD 10) and/or spending the rest of the day – or a night – sitting in the stadium; the rule is largely adhered to on the black roads and on buses, but in our 'hood most people don't wear a mask or not properly. For some months buses could only operate at half their capacity, to enable social distancing, (and fares were raised to compensate) but by now they are almost back to normal. Schools and universities have started to open, in the first place for students in their final years.
The front of the new house, with more than enough space for a car, seen from the gate. From those steps one sees the centre of Kigali in the distance.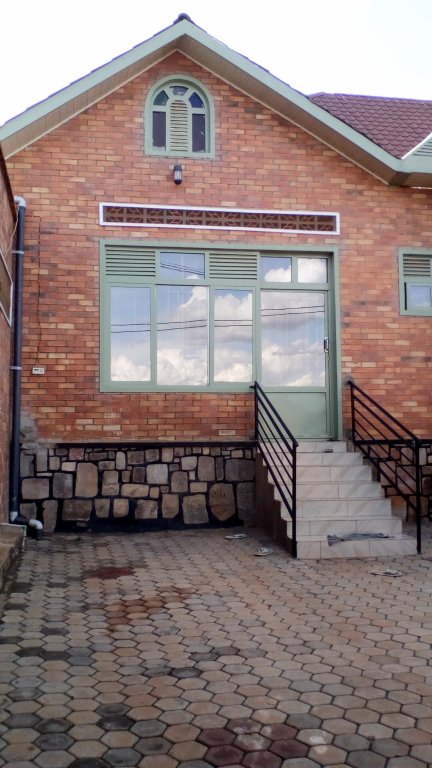 The outside doors and the one to the kitchen are sliding doors. The ceilings are high, all the floors tiled. This kind of brick is famous in Rwanda.
NOT quite the usual half-yearly summary – because of the pandemic, schools and universities in Rwanda were closed in March, and they have only just started to be reopened, but at different times at different institutions and for different years:

While continuing to work, Laurien is back at university on the weekends, in Wroclaw, for a Master's degree, which should give him better employment opportunities in future.
Oliver has started the second year of his Master's course in Rzeszow, and seems to be doing fine, despite finding the course not sufficiently 'technical'; I managed to meet him, L and Benjamin for a weekend in Wroclaw during the summer.
Having still not found a job here, even as a nurse, Modeste is checking out if he can do a Master's degree in something like Public Health in Canada, somewhere far in the north.
Roger is about to complete his course at ULK, with a six-month delay: some exams left and the thesis to complete.
Having spent part of the long break in Musanze and part in Kigali, Bango has just started the final year of his four-year course in 'Land Survey' at INES (Institut d'Enseignement Superiéur).
For Frank the same holds as for B. They both occasionally come to Kigali to visit, and sometimes stay at our place, both when I am away and when I am here.
Because her courses are all on-line, Alice can be in Kigali while studying at the former KIST, still finishing the second year.
Patrick has almost finished catching up and is waiting to continue his studies, also at KIST, but he is also keeping busy doing some work in town.
While continuing to work, a bit, Eric is starting the second year of his course in Media Studies, although for now he has to go to Nyagatare, about four hours from Kigali, every weekend.
Africa has resumed the resumption of his studies and should be completing Senior 6 next year.
Chance, Pascal's niece, has gone back to her government boarding school, to continue her last year, Senior 6, in the Option of Computer Applications.

F's sister Liliane has gone back to Catholic boarding school, for an extended second term, and then she will have one more term to take her O-levels at the end of Senior 3; friends of mine in Germany have been finding the money to pay her fees.

A friend in the US has continued to give me money to help Ulrich's family, themselves not rich, look after Lincoln/James, a lively kazungu boy whom they have kind of adopted because his mother can't look after him.

As always, I am very grateful for the extremely generous support I get in supporting these students – from friends of mine who don't even know the people who their money is going to! Thank you so much.

(Some of the people I/we have been supporting through their studies continue to need financial help, sometimes for a long time, before they can find a job, so I needed to make my own 'scheme' for that.)