mid-February
I've been back in Kigali for two weeks now, but have to say that this stay did not start well. A cousin of Manu's, whom he had been very fond of, was shot dead – apparently by the police, apparently after having been suspected of three thefts at the school where he was working. No comment! M has 3.5 months left in prison, but they had not been allowed any visitors for more than two months, because of a serious outbreak of measles in 'that other country'; we were able to see him this week, but we had only 15 minutes, and there were four of us. I was a bit sick the first week, though not with malaria, which E insisted I get tested for; but then he fell quite seriously ill himself, with malaria and typhoid, so he could not even take a taxi moto home. And since then Olivier, who is still staying with us, though he is busier again these days, has also been diagnosed with typhoid; fortunately the treatment is quite simple, (and I get myself vaccinated against it every three years.)
The rest of life here has been much as usual. Pascal continues to go to a gym almost every morning, working out hard, and to do quite well with his business, it seems, where he is a member of the 'supervisory committee' of the cooperative, so he is out of the house much of the time as well. I am working a lot less this term: instead of 14 hours a week, with AIMS and to AMMI students, I only teach four hours a week to the AIMS students, concentrating on such things as how to write a 'Statement of Purpose' or 'Letter of Motivation'; the students have a lot more Maths to do these days, and they are in a different place of course with their course. The landlady has been here for a weeks now, she had some things fixed up in the compound, (although the painters did an awful job on the outside!) but she has also opened a shop in one of the two shops in the compound open towards the front. Water and electricity have been alright.
Two more, positive police matters: In the last three months many of the pedestrian crossings in the city have been emphasized with red paint, and the police must have made an effort to enforce the rights of pedestrians, because the behaviour of drivers has changed very noticeably in a short time! – After years of being disturbed by the loud music late at night from the bar next to our compound, we finally contacted the police, O by calling them and I by text message; both times they came it became quiet, of course. And since a further call to the owner – whom the manager seemed not to have told that the police had come to his bar – we/I now sleep more easily.
Holiday memories 1: The 2.5 months away were very very nice too. Just over four weeks in Berlin, with lots of concerts as usual, and reading and seeing friends, but also quite a lot of 'official' stuff, so that I ended up quite busy this time: I finally registered at the Bürgeramt, and got a German ID, as well as getting my British driving licence reissued, changed bank account, (much too late!) finally managed to get the ceiling in my bathroom all fixed up, where there had been a leak from the shower in the apartment above, and the ceiling in the kitchen and corridor repainted, and had an implant implanted, so that I can get the teeth on the right side all fixed up as well.
Holiday memories 2: And I had a brilliant trip of just over six weeks, starting and ending with a couple of days in London, where I had not been for 2.5 years, and two days in Paris on the way back. Some long flights, to and from Sydney and New York, (including the third longest flight by any airline, more than 17 hours from Houston to Sydney) but no problem: in fact, all flights I took and even all bus connections, like to and from Washington and Boston, were on time and comfortable. And furthermore, in the whole of the 2.5 months I was not disturbed by rain a single time! – never any need to take an umbrella even, nothing worse than two or three times some drizzle.
Holiday memories 3: The fact that the worst experiences were that it was rather cooler in Sydney than I had hoped, so that I did not feel like going swimming in one of those great pools they have in the city, that I missed meeting a friend in New York because he had not yet come back from Columbia, and that I saw rather less of another friend because he is breaking up with his husband – the fact that these were the very worst experiences shows that it must have been a pretty good holiday, no? And lots of great experiences everywhere, especially of course enjoyable, fun and serious conversations with my friends everywhere, but also organ recitals and jazz, modern dance performances, walking amongst nice buildings, and so on.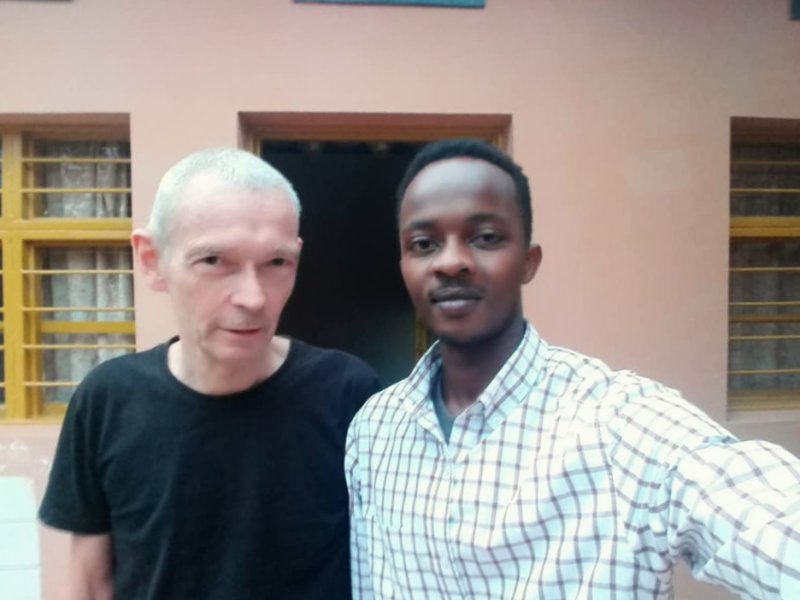 J, whose name people pronounce as two syllables, and who actually looks much younger than in this photo, the close friend of two friends, is also a student at INES in Musanze.
The usual half-yearly summary (– the academic year for schools in Rwanda has just started, but it is almost the middle of the year at the universities, as in Europe and the US):

Justine, Benjamin's sister, is in the last year of studying Business Administration/Finance at a college of the U of R, the former SFB (School of Finance and Banking): the government pays the tuition for good students like her, but not much more – RwF 30,000 (= $ 26) is NOT enough to live on for a month. It is very nice that her brother has now become a supporter too!
Laurien, who in January again came to visit me in Berlin, will soon complete his three-year Finance course at the Economic University of Poznań, and is looking for either a Master's course or a 'proper' job: at the moment he has a part-time job in a big hotel.
Omar, from Goma, just across the border in the DRC, should have finished in half a year at the Gisenyi campus of ULK (= Université Libre de Kigali), where he moved in April, because the fees and the living expenses are lower there than in Kigali; but he will now need an extra year (– so I feel I can no longer involve any of my friends' money in keeping on supporting him.)
Roger is almost half-way through his three-year course at the ULK; having 'a household' to support, he is using contributions from two different sources – on condition that he save regularly.
Bango is now in level 2 of a four-year course in 'Land Survey' at INES (Institut d'Enseignement Superiéur) in Musanze (the former Ruhengeri, about three hours to the NW from Kigali) and seems to be doing well, at least academically. (He was recently able to get himself a computer, with money that friends of mine had given me.)
And the same is true for Frank as for B – in fact, they are staying in ghettos quite close to each other, about 20 minutes from the campus; the compressed first year required some hard work but they seem to have managed well.
Theogene, a.k.a. "Mundo Boy", will now be continuing at (the former) SFB, in the second year, rather than having to change to the (rather worse) University of Kigali; but his true passion is clearly music.
[Later:] James (pronounced in two syllables here) is a very close friend of two friends of mine, and also studying at INES, in year 2 (– the reason that they are all in the same place is that it is the best technical university apart from KIST, which is much more expensive.)
Eric, who has been staying with us for half of each week since August, both to help in the house and to help manage Manu's time in prison, is about to apply at INES as well, for a three-year course in Land Administration starting in March. [Later: So he is now studying, the first weeks they have courses in French and English.]
Chance, Pascal's niece has started Senior 5 at a government boarding school, having chosen the Option of Computer Applications.
C's brother Fabrice, now about 12 years old, is not doing as well as his sister, so he is in Senior 3 at a school near their village – actually not so near: he has to walk about an hour each way!
Ah, a little guy I forgot the last times: for some time now a friend in the US has been giving me money to help the family of a friend, themselves not rich, look after Lincoln/James, a lively kazungu boy whom they have kind of adopted because his mother can't look after him.

As always, I am very grateful for the extremely generous support I get in supporting these students – from friends of mine who don't even know the people who their money is going to! Thank you so much.

---

And 'supportees' who have recently finished:

Modeste has completed his one-year internship, but the authorities in Uganda are delaying issuing the Licence to Practise as a nurse. The process, which he started, to go to the US seems as uncertain as it would be laborious and expensive, so he is waiting to figure out how to proceed.
Meddy has completed his National Exams, and – a bit surprisingly, I have to say – he passed, though not well. Both he and his close friend Aimé seem to have difficulties holding down a job, walking away when they are bored, but M is now trying his hand at working for a furniture maker.

(Some of the people I/we have been supporting through their studies continue to need financial help, sometimes for a long time, before they can find a job, so I needed to make my own 'scheme' for that. It is then very pleasing when someone can stand completely on his own two feet, like Hadelin, who now has a contract – and is being paid! – as a government agricultural adviser, though in the far NE of the country.)