late February
[Having been lazy in November about keeping this non-blog current, I have returned to last year's page this term, to add one more entry with pics.]
Having come back from a great two-month break in Berlin and the US, and there mostly in New York, and lovely times with my friends, as well as (in Berlin) lots of concerts and reading, swimming regularly and cycling everywhere, (I was a bit lucky with the winter weather), cakes for lunch and a little mulled wine with my Abendbrot, I am also pleased to be back in Kigali, for three months this time. – For most of the time that I was away, the owner of the compound was here, and she has taken over the smaller house, which I used to rent out, but my rent has gone down too. She had some renovating and repairing done, and P and Oliver got along with her very well, they said.
Those of my friends who finished secondary school in November are happy to be out of school, but looking for jobs, a bit bored, and worried about their future. Some have taken on some project, whether for money or not, and some have started to read a bit: I discovered a great website, with hundreds of novels, short stories and the stories of some movies, all retold in simpler English, from Beginner-level to Advanced; and so by now some of my friends have enjoyed Erich Kästner's Emil and the Detectives, written 1929 but still great, I think.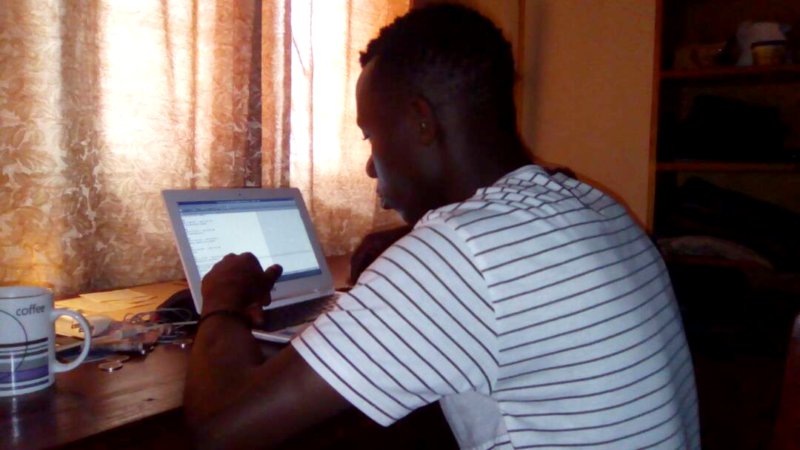 After Daniel, my Kenyan friend/ex-colleague, had been 'holding the fort' at AIMS while I was away, I started to share the teaching of English again when I came back, usually twice a week, my particular emphasis being on 'Talking and Writing Maths'. It continues to be fun, but worrying that many students may not be aware of their weakness, although some of the time they are just too stressed by the demands of the intensive Maths courses they have. – I am now also teaching German to the son of the Academic Director of AIMS, which he had started to learn in Cameroon and wanted to do in the French Bac, in June, rather than change to Spanish which is what is done at the Ecole Française. Not much money, so I am lucky that he is at least a very nice and clever boy; and I also get to use, quite a lot in fact, the French I have been studying ...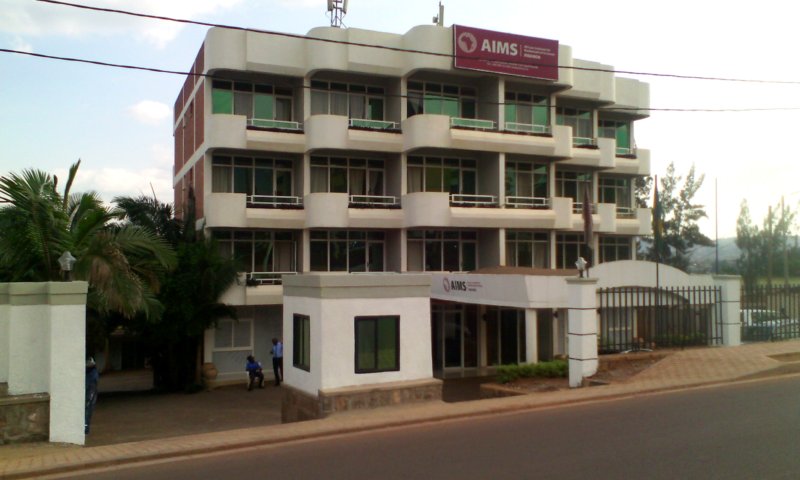 As well as doing a 1/4 job for his Indian company, for which he therefore only gets a 1/4 salary, P has started a small business, of selling mobile phones and accessories, mostly, in a market in town. Best wishes for that! O is continuing to live with us, and sometimes needed, but they are both increasingly living lives outside our place. – One friend, unfortunately, has had a major health problem: A has had to interrupt his medical studies, having suffered from a form of encephalitis since November, which resulted in paralysis of his left arm and leg; with antibiotics his condition has improved, but even with regular physiotherapy it will be some time before he will be fit enough again. (It says something about society here, and his family, that when at first at the hospital they could not make a diagnosis, he begged me to pay RwF 150,000 (= USD 130) for him to go to a witch doctor in a village; I said No. And by now he understands that that would not have done any good.)
The usual 'termly' summary (– the academic year for schools in Rwanda is starting now, but it is the middle of the year at the universities, as in Europe and the US):

Benjamin has just one semester left of his two-year M.Sc. course at Politechnika Poznanska in Poznań, which seems to have gone well enough, and having learnt enough Polish, he even landed a part-time job at a hotel.
Modeste is continuing the one-year internship, which is needed to qualify as a nurse, at a big hospital in Kampala; he is not very pleased with conditions there: bribery, strikes, lack of concern, and so on.
Arafat is continuing to study Medicine, alternating between three months of internships in Kigali, and one month at university in Butare; but he has, sadly, had a major health problem for the past few months.
Paulin is in the 4th and last year of Civil Engineering at KIST (= Kigali Institute of Science and Technology), but also very active outside his course, such as coordinating the Rwandan part of an international student-project competition.
Justine, B's sister, is in the last year at a college of the U of R, the former SFB (School of Finance and Banking): the government pays the tuition for good students like her, but not much more.
[Later: we had thought that her course would be compressed into three years, but J will now only finish in June 2019.]
Laurien is just about half-way through his three-year Finance course at the Economic University of Poznań, with good results; when I visited B and him in January, it seemed that having picked up more Polish he has begun to feel more comfortable there.
Omar, from Goma, just across the border in the DRC, seems to be enjoying studying in Kigali, at ULK (= Université Libre de Kigali); he too is just about half-way through his course, and doing well.
Roger had been combining a full-time job with studying, also at ULK, and only needed a little help, but sadly the company he was working for closed down at the end of last year, so ... We'll manage, I think.
[Later:] Having worked hard and done quite well in the National Exams, (though not well enough to get a government bourse to study at university) Bango and Frank have both registered at INES (Institut d'Enseignement Superiéur) in Ruhengeri, about two hours north of Kigali, for the four-year A0 (Bachelor's degree) course 'Land Survey' (Topography).
Meddy has started the last year of secondary school at his boarding school, far from Kigali – at least we hope that he has actually gone! He has continued to be very unreliable, so I am not sure yet if ...
Chance, Pascal's niece completed the Tronc Commun (= national exams after Senior 3) with a Grand Distinction in November, so she is now in Senior 4 at a different boarding school, having chosen the Option of Computer Applications.
C's brother Fabrice, now about 12 years old, is not doing as well as his sister, so he is in Senior 2 at a school near their village – actually not so near: he has to walk about an hour each way!

As always, I am very grateful for the extremely generous support I get in supporting these students – from friends of mine who don't even know the people who their money is going to! Thank you so much.
Of my friends here, five finished secondary school in November and have recently received their National Exam results. That they were in the same year, and mostly studying the same 'option', is no coincidence – many of my friends here I first met through other friends. (That kind of thing may not be so uncommon, but perhaps it happens more here, or to me.) So, four years ago a guy started to talk to me in the street as I was walking home. Now, he is still in Senior 5, because he restarted after one year in a different 'option', but he introduced a friend to me, and at the end of the term that person brought along one of his friends; both of them are now friends of mine too, passed the exams and will get a Diploma. Half a year later that last person asked me if two of his friends could join us at the pool, and they have become my friends too; both of these did quite well in the Exams (– well enough for me to perhaps help them continue to study.) And last year I also met the cousin, who was then also in Senior 6, of the first person; but he, I am afraid, did not do well enough in November.