mid-February
[Written in the first place for B and L:]
Two weeks ago I came back from a fantastic 'holiday': 5 weeks in Berlin, with short trips to Baden-Baden, (not predominantly to hear "Nora", with Cecilia Bartoli ...) and to Poznań to visit B and L, 3 weeks in the US, mostly in NYC, then almost 2 weeks in Sydney and the summer, (with a stop-over in Hong Kong on the way there, long enough to go the the centre and walk around for some hours) a few days in/near San Francisco, and finally 1 more week in Berlin. I was very very happy all the time spent with my friends in these various places – thank you very much. And I was lucky with the weather everywhere. But it did feel like a long time away from Kigali; the plan for the next year is to spend 3 months here, now, 3 1/2 months away during the summer, 3 1/2 months here, but then only 2 months away in the winter – I already have the ticket for the next time I'll come. ;-)
But two friends I did not get to see in the US, because when I was making my plans, we did not yet know when or where they would be going; still, we had some long conversations on the phone while I was in the country, and it seems that things are alright: at least they have found work ... However, I certainly hope that in the summer I can visit Ayubu, who is in Boise, Idaho, as a refugee, and Noel and his wife, who came after he had won the 'Green Card Lottery', in Milwaukee, where Patrick and his partner are helping them out, even looking after them, amazingly well!!!
The two weeks here have been very nice, relaxed, with friends dropping in and sometimes staying, as usual. P is here of course, and things are good at home, of course, while he is also doing some on-line work for an Indian company that he hopes will turn into a proper job. Rather sad is, though, that of the two lower-leg bones that O broke during football practice at uni three months ago only one had healed, last time he had an X-ray, when we went to King Faisal Hospital. If things are not better when he has the next appointment, in early March, then he will need an operation – at King Faisal and expensive. (My feeling is that here doctors generally resort to amputations rather too quickly, mostly presumably because of lack of resources and perhaps training.)
While I was again not looking for work, work has started to look for me. The Principal of the Secondary School asked me to meet him on Friday to discuss some cover that they would like me to do while I am here till May; (when I went to school for a visit last week, I found that my lovely colleague Flavia had already set up a desk for me in her office.) And when I went to watch a film yesterday at the Goethe Institut (the German cultural and language institute) in town, I was fairly pounced upon, as they are looking for teachers, especially for some two-months intensive courses: I have not committed myself, but I will already fill in for someone on Thursday evening; and then I will see. – The Headmaster of the school is leaving in a few weeks, after nine years here, back to Canada, but we had a very nice lunch together a week ago, and last Saturday he had invited me to share some wine and for dinner at his house, also very nice. In fact, a large part of the administrative team is changing this year.
It is a bit disturbing for me, and at times frustrating, (I think I have mentioned this before, but it has come up again recently) that even many of my friends here don't understand that, and how, I can be very happy without working: they don't understand that there are things that are important to me, things that I really want to do, so that there is no danger of being bored. It seems that because they don't have such things, (and this is of course not only the case with Rwandans, but may apply to the majority of the population everywhere) so that working and making money are the only things that are important to them, they are bored much of the time; and they assume that it is the same for me. While I am not holding them individually responsible, still for me it is very sad that for nearly everyone here education is nothing other than a means to the end of getting a job, making money and collecting possessions. – Having said that, I do think that to my friends their friends at least are in fact important – which is why we can be friends.
Some other friends/people: Philbert (Economics) is still staying near his home, 'searching', but Hadelin (Agriculture) found a job in the same area, as something like an 'extension agent'. Flora has finished both her degree and her relationship with P, but is still working as before, as far as I know. Claude (Languages, wants to be a journalist) is awaiting the results of his National Exams.
Changes in Kigali: High-rise office blocks and buildings of expensive apartments keep going up, but continue to be largely unoccupied; but no affordable housing, from what I can figure out. All the large billboards have been taken down, like one across the road from us; one story, which is probably not true, is that this was ordered by the President after a person was shot by his security detail, who mistook a collapsing board for an attack. The run-down bar next to our building is being upgraded, with glass doors and tiles! And a new addition to our menu: there is fermented milk here, called ikivuguto, which P discovered tastes nice with sugar and strawberry syrup, but I prefer it sweetened with fresh fruit cut into it – very nice.
The usual 'termly' summary (– the academic year for schools in Rwanda is starting now, but it is the middle of the year at the universities):

Benjamin has completed the first semester of his two-year M.Sc. course at Politechnika Poznanska in Poznań, which seems to have gone well enough, and has started to study Polish.
While waiting to start the one-year internship in Uganda, which he may only be able to do in August, which is needed to qualify as a nurse, Modeste is using his time by helping Britta, my sister, at her organic farming project in Kenya.
Oliver should be on the last semester of his course in IT at Ndejje, in Uganda, but some scheduling clashes, and his broken leg, which has become a rather serious issue, may mean that he has to go back for a semester in one year.
Arafat, from Kigali, is studying Medicine in Butare, in level 4, (although he is still only 20!) but most of his practicals are at hospitals here. [See below.]
Paulin, whom a Ugandan friend had asked me to 'check out' for an association of voluntary organisations, is in level (= year) 3 of Civil Engineering at KIST (= Kigali Institute of Science and Technology); he had been managing to live on RwF 25,000 (= $ 30) per month!
After one year of a four-year course on Cyprus, Laurien has finished the first semester of a three-year Finance course at the Economic University of Poznań, with good results; he too has started to study Polish.
Justine, B's sister, is in the second year at a college of the U of R, the former SFB (School of Finance and Banking): the government pays the tuition, but not much more.
Omar, from Goma, just across the border in the DRC, seems to be enjoying studying in Kigali, at ULK, where he has started his second semester, (but not so happy having to share his lodgings with his cousin.)
Emmanuel M ("Bango") is in the last year of the 'Public Works' course at St Joseph, near where I live, and has been doing well; he can also be quite funny.
Later: Frank, the third fellow-swimmer, quite a serious guy, is doing the same course, but in the April holidays had to use the money for the next term on treatment for an old problem with his ribs, (which has not stopped him from playing basketball.)
Emmanuel T ("Em1") has moved, together with a friend of his, from St Joseph to what sounds like a now very liberal boarding school not far from Kigali, (where Roger used to study) but comes to visit frequently.
Mostly because of a difficult family situation, Meddy too has moved to a boarding school, into Senior 5, but further away from Kigali, and has hopefully become more 'serious' than we have sometimes known him. [Later: but perhaps not ...]
Chance, Pascal's niece, has started Senior 3 at a government boarding school, so she will take the Tronc Commun (= national exams after Senior 3) in November.

I am pleased that with some of the students above, the parents have been able to pay part of the fees and costs, so that we are sharing the expenses.

As always, I am very grateful for the extremely generous support I get in supporting these students – from friends of mine who don't even know the people who their money is going to! Thank you so much.
New guy P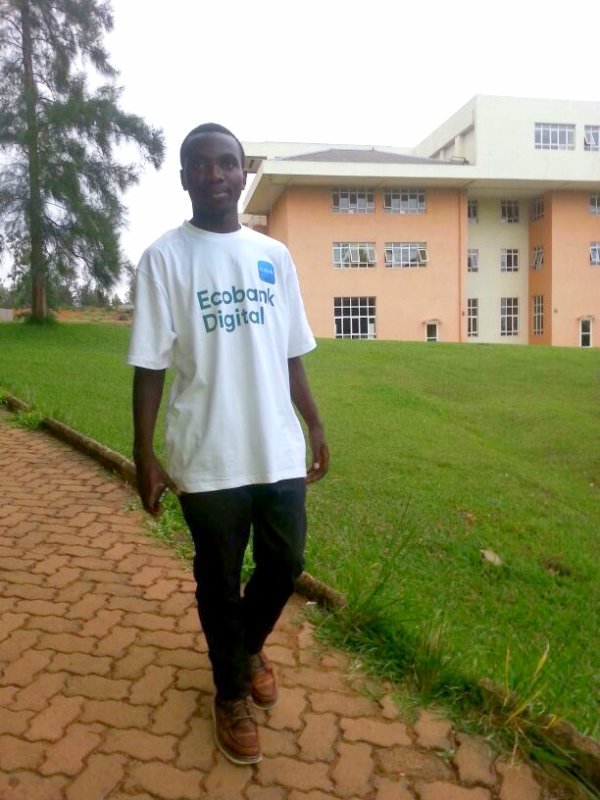 at KIST