early September

My contract at the school had finished before I left in May, and they did not know if they would renew it – as I think I mentioned, the job that I have been doing the last two years had come to an end. But now I have retired, I think, for the third time, and am enjoying greatly being here without having to get up at 6am every morning, and so on.

BEWARE THE SMALL PRINT:

A few days ago, B asked me for my Tigo phone number, and when he had entered it in his phone, it was immediately identified as the number of "Kai L's sponsor". Ouch! Where did that come from? What if it had been someone who L did not want to know that I sponsor him? It turns out that both B and the Kigali agent of L's university had the app True Caller on their phone, and when you install it, their database collects all of your address book, numbers and the names you use for people. Hmmm.

Friends here have been asking me if I was not worried that I might get bored, but there are some things I have been wanting/waiting to do that now I can – such as re-reading novels that I read a long time ago and that have been with me all my life, starting with The Ambassadors (Henry James) and Mrs Dalloway (Virginia Woolf). And listening to music sometimes, the kind of music one needs to concentrate on. And doing little projects that I expect will come along, like making a website for Britta's organic farming initiative in Kenya, (where she is planning to go back to in October.) And being able to meet with friends more easily, not just in the evenings and on weekends, and go swimming on my own when it is hot and I feel like it, not just on weekends.

By now, having sometimes spent more than a month mostly on my own in Berlin, it is quite normal for me to structure my time around things that are important to me and that I enjoy, things that do more than just 'pass the time' – in fact, having been back for three weeks, I have been very (nice-)busy all the time. While I now have to get my own visa, instead of the school getting a work-visa for me, this is, fortunately, no great hassle here.

I will now also have a lot more flexibility in when to travel. The last holidays (if that is the right word when someone is not working any more) were fantastic – my thanks to my friends for their role in this: five weeks mostly in Berlin, almost four weeks in the US, mostly in New York, and then another more than two weeks in Berlin, (where I got to know a couple of new guys, and where a Tanzanian friend, ex-AC, who has started a job in Berlin, is for now staying in my apartment, which is quite fun for me.) This time I will stay in Kigali until the beginning of November, and I have already booked the flights for my next 'holidays' (– prices were beginning to go up): Berlin, New York, Sydney, San Francisco, Berlin. Then, after just a week in the cold, I plan to come here again for three months, from February to April/May.

Em and Em in school uniform – except for the hats and not tucking in, of course; they dropped in one morning,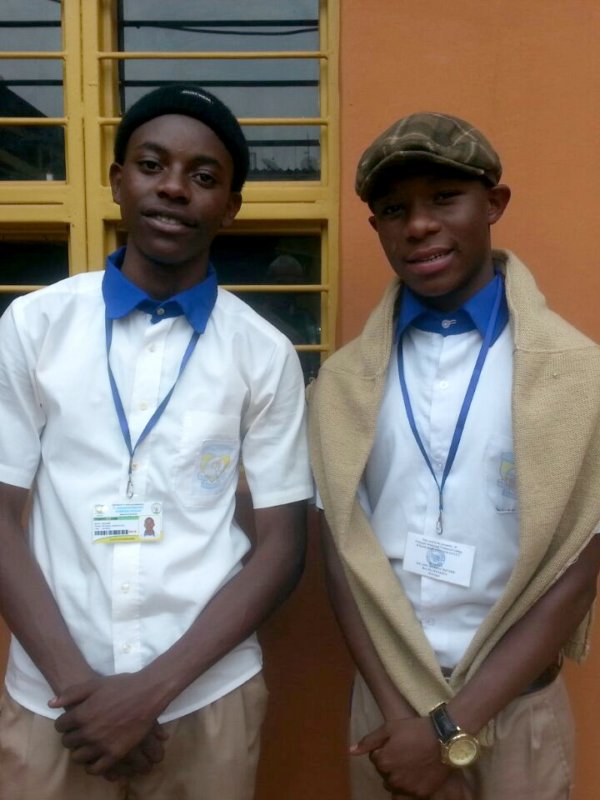 after not being allowed into school, (for non-payment of fees. Surprisingly, such measures had to be taken each term even at 'my' former school, although it has quite a different clientele.)
Something that shocked me recently is that I found that there are friends who I/we have been supporting who take the typical Rwandan male line that Donald Trump should be US President – why? Because Hillary Clinton is a woman and therefore not up to the job! One person, after I and then B had explained things to him, changed his mind - it was very laudable of him to actually say so and apologise the next morning. (I have not given up on the other one ...) And it was heartening to find one person, who I/we may also end up supporting if he gets his tuition at the University of Rwanda paid by the government, someone very much 'from the village,' NOT having that outmoded attitude and actually being able to give reasons why it is wrong.
Things that make staying here even better, compared to before: after many years of problems, we now have mains water all the time; there have been hardly any electricity outages, and they have been very short; a new bakery across the main road from us sells cake that is a very good approximation to a German marble-cake.
M back at his school near the centre of town; he had been sent away the previous few days, for not having paid all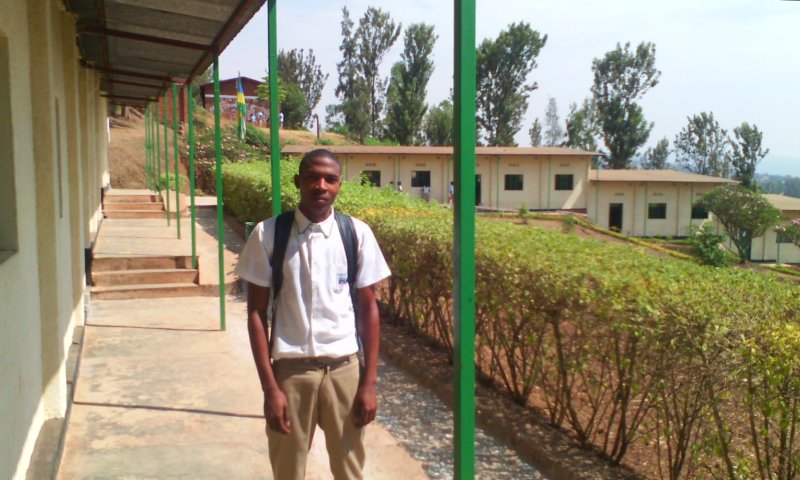 the school fees, so I walked to town with him one morning, to have a look at the school and his last report, before paying the remainder. This is what secondary schools tend to look like here.
The usual 'termly' summary (– the academic year for universities is starting now but it is the beginning of the third term at schools):

Benjamin, having come back from Turkey, (where they had cancelled his course but did eventually agree to refund the course fees we had paid) is preparing to go for an M.Sc. in Poland instead, in Poznań; and the fees are no higher.
Modeste is about to finish his four-year Bachelor's degree at UCU (Uganda Christian University) in Nursing Science; he has already done various internships, including two months in a maternity ward here in Kigali, but to get his licence, he still has to work one more year at a hospital.
At ULK, the university of Flora, Pascal's girlfriend, the experiment to compress the four-year course into three years has apparently not worked well, so they are still studying until October; she never has time, as she is doing a job at the same time.
Having lived with us for the past eight months, Ayubu, now half-way through his course at AUCA, the Adventist University of Central Africa, (and remember, he is devout Muslim) has moved back to 'his place' but comes to visit regularly. [See below.]
Oliver has been doing an internship in Kampala all summer, which was apparently quite productive, so now he only has a break of one week before starting the last year of his IT course in Uganda.
Laurien, having found his course in Northern Cyprus not challenging enough, managed to get accepted for a course in Finance, taught in English, at a university, also in Poznań, but for now he is struggling to get a Turkish visa to go to Ankara to get the Polish visa – might be difficult; the fees are no higher. [See below.]
Justine, B's sister, studying Accountancy at a college in Kigali of the University of Rwanda, apparently gained excellent results in the exams at the end of the terms.
[Later:] Omar from Goma, just across the border in the DRC, his English greatly improved since we first met, has started at ULK (Universite Libre de Kigali, where – despite the name – all the teaching is in English now.)
Claude, still keen to become a journalist, (even though I have found him with some VERY outdated ideas ...) will have his National Exams in November, so it is his last term; his school fees have been very low.
Emmanuel T. ('Em1') and Emmanuel M. ('Em2') are two of the four friends in one Senior 5 class at the nearby St Joseph, in the option of Public Works, and two of the three with whom I have been going to the pool; their parents could only raise part of their fees for the term.
The same applies to Meddy, who goes to another St Joseph, in the centre of town, studying Computer Science & Management; though older, he is only in Senior 4, because he started again in a new option.
Christine, M's sister, is continuing at a secondary school in the village.
Chance, P's niece, will finish Senior 2 at a government boarding school in November.

As always, I am very grateful for the extremely generous support I have been getting in supporting these students – from friends of mine who don't even know the people who their money is going to! Thank you so much.
Pascal, having completed his BBA at LPU, having made sure that he had passed all his exams and having had to get a new passport and visa first, came back from India two weeks ago (– it seems that it is quite a procedure to leave that country after having studied there for three years!) His first task was to arrange the memorial ceremony for his grandfather, who had passed away in May, (when B had taken charge, in his place, of everything in the village) so now he is staying with me again, like he did for 3 1/2 years when I first moved to this house, but he is starting to look for a job. He seems to have made quite a few friends in India, who sometimes come to visit.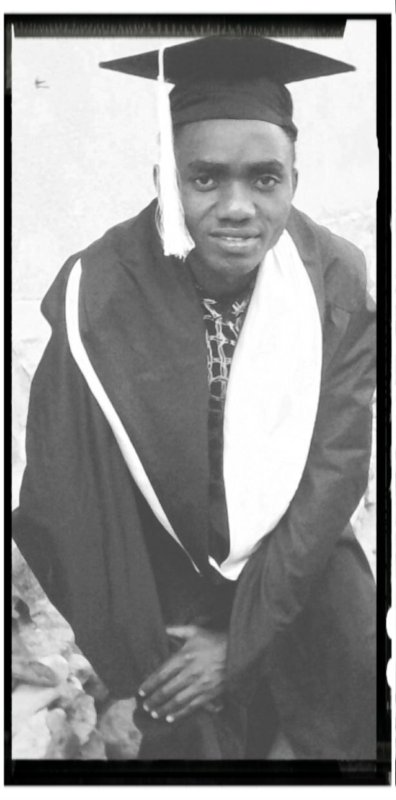 Philbert has graduated (in Economics) from the College of Arts and Sciences of the U of R, very near the top of his class – this is not quite an official graduation picture. So he is now looking for a job; his first offer was from a marketing company, for a position far from his home, but since they were only going to pay RwF 40,000 (= $ 50) per month, we agreed it was not worth it, one could not live on that.
Updates on other friends/ former supportees:
Hadelin (Agriculture) has been doing an internship with a Dutch agricultural company, that hopefully will become a full job if they do well enough, but has been supporting himself by still also working at the near-by bar where we first met him. We have agreed that if/when he does get a full job, he will start to pay some of his brother's living expenses.
Noel (Urban and Regional Planning) has continued a paid internship, sometimes full-, at other times part-time, while preparing to go to the US on a 'diversity visa', which he has to take up by the end of January.
Roger, who after finishing secondary school (Construction) lived and worked for some years at the house of some muzungu neighbours, (where P had 'placed' him) now has a position at a recycling company, on the outskirts of Kigali, paying about RwF 200,000 (= $ 250) per month, enough to also support some other members if his family.
Jean de Dieu, L's brother, has been working for one of the three telecomms firms, as an area supervisor of agents selling airtime and SIM cards in the street: practically everyone here uses pre-paid phone accounts, many people have pay-as-you-go SIM cards from different providers which they recharge with small amounts; landlines are extremely rare, even many government offices have mobile phone numbers.
H's brother Charles did well enough in the national exams to get a place at a government university, but sadly not well enough to get government support (which I had agreed to top up to enable him to study.)
The brothers Oscar (Teaching) and Alain (who had tried three times to pass the driving test) are apparently still searching jobs.