late January
After four weeks spent mostly in Berlin, (I had left school a week early, – but also the country a day late: I was bumped off my flight, but well looked after and generously compensated by Turkish Airlines) with pleasantly mild weather and time for reading and concerts, a quiet non-Christmas and New Year with the usual fireworks, but including a very enjoyable six-day trip to Amsterdam, London and South Wales, I arrived back in Kigali after midnight on a Saturday night, was picked up by Laurien and Oliver, and was back into the full routine at school on Monday.
Other schools had already started, so L had dealt with people's school fees – after all, he is studying Accountancy. For most of his two-month holiday, not having found an internship, he had done a course in his field. Some friends have been to visit: O was here when I arrived, a new guy from Goma, just across the border in the DRC, stayed for a night, Modeste spent a few days here on the way to his internship in Northern Uganda, and Philbert came for a weekend. – Britta, after 2 1/2 months in East Africa, mostly in Kenya, has just flown back to France, from Nairobi this time.
Just after I came back, the tenant of the smaller one of the two houses in our compound moved out, after more than a year, and a new guy, rather more lively, never without a beer in front of him, moved in. Instead of estate agents, there are informal 'commissioners' in each area, who keep track of what places are available, and who get paid their expenses plus about a third of the monthly rent of any place that someone actually moves into. New tenants are expected to pay the first two or three months of rent when the contract is signed.
School has started easily enough, the project of introducing proper accounting is making progress, albeit slowly, and I have even been able to go home after a mere 8 1/2 hours on some days. During the holidays I had written an e-mail to say that from next year, i.e. from August, I would not want to work the way I have been doing – while I have been enjoying all the different parts of the job, now as 'Senior Consultant' but with an almost full teaching load as well, there has just been too much of it, both in terms of hours per week and in terms of weeks per year; so I have suggested something like "half the job for half the pay." I hope we'll be discussing this in the next month or so; if we don't, then the school, if they want me, will have to fit in with plans I will start to make.
'Termly' summary (– it is the start of the academic year for schools but almost the middle of the year at the universities):

Noel (Chris) has finished all his exams, but still has a one-month internship and a thesis to complete before he gets his degree in Urban and Regional Planning in June.
Hadelin is in Israel for a year, on a work-study programme for agricultural students from African countries, but will return in September for the last year of his course.
Oscar, who I got to know through his brother Alain Theogene, is in the third year of his course in Education, at what is now The College of Education of the University of Rwanda, or fKIE, as we call it.
M, from the same village as H, studying Nursing at UCU (Uganda Christian University), has just started a three-month internship in Northern Uganda, at a hospital in what has turned out to be a small village, but will continue at university in May.
Benjamin is now in the second year at Lovely Professional University in India, doing a BCA (Bachelor of Computer Applications). It was good to talk to him and Pascal on the phone sometimes when I was in Berlin.
O only has one more term of IT at what was (and may still be, despite the reorganisation) Tumba College of Technology. There are a lot of IT graduates, so he has started to think about what he can do, how to continue, after July.
Ph is in the middle of the second year of Economics at what is now The College of Social and Applied Sciences, I think, of the University of Rwanda, formerly the NUR (National University of Rwanda), in Butare.
P is at the same university in India as B, and they are in fact sharing an apartment – very nice, from the pictures they have sent. I am looking forward to visiting them in April for a week.
AT passed the theory exam for the driving licence well, and has been taking practical lessons: every day for two months, here. When he has finished, he may well be more employable than someone with a bachelor degree.
Flora, P's girlfriend, has started to study at a private university in Kigali, while working at the same time – but all this is hear-say: I am still waiting to know what she is studying, and so on.
L has started Senior 6, the last year, in Accountancy, at the school near our house where P used to study. He is doing extremely well, and has read all of Emil and the Detectives.
Justine, B's sister, has also started Senior 6, but at a boarding school, also studying Accountancy.
And then there are brothers and sisters of H, M and P, but school fees in the villages are so low ...

Since the government's change of heart, regarding the fees charged to poor students, there is, I am pleased to report, rather less for me/us to pay or contribute than half a year ago. But as always, I am very grateful for the extremely generous support I get in supporting most of these students – from friends of mine who don't even know the people who their money is going to! Thank you so much.
Long overdue, perhaps: a new mattress, the old one, here still in the background, has by now been taken to the village (– this picture may be appreciated more by friends who have actually slept here ...) By the way, some things are much more expensive here than in Europe: my much better IKEA mattress in Berlin was much cheaper than this one.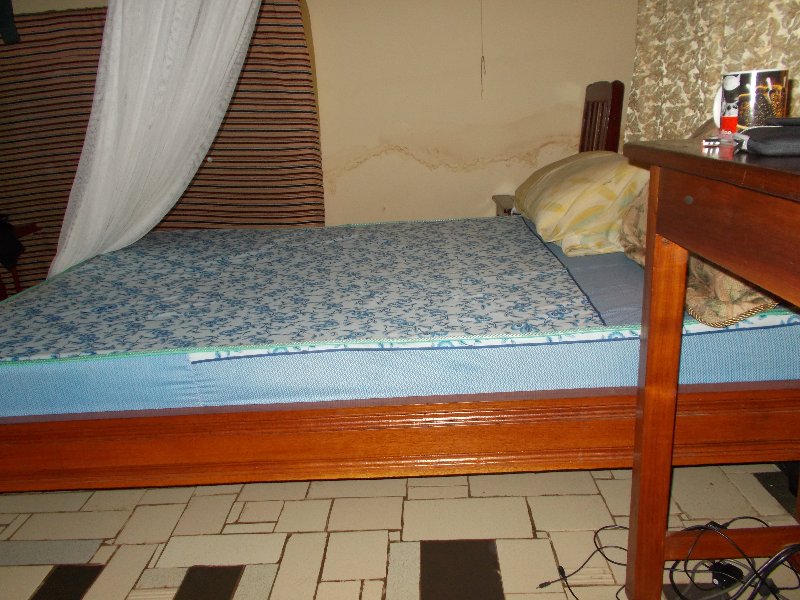 L at school, (where phones are not actually allowed!) taken with the new smart phone he had been saving for: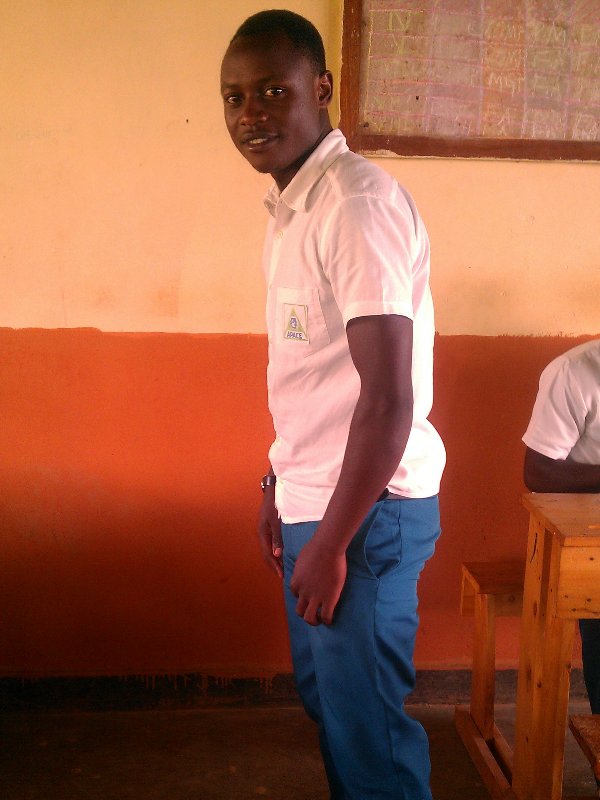 O (in the foreground, his injured arm cannot be seen in this picture) and some fellow-students at Tumba College giving a presentation: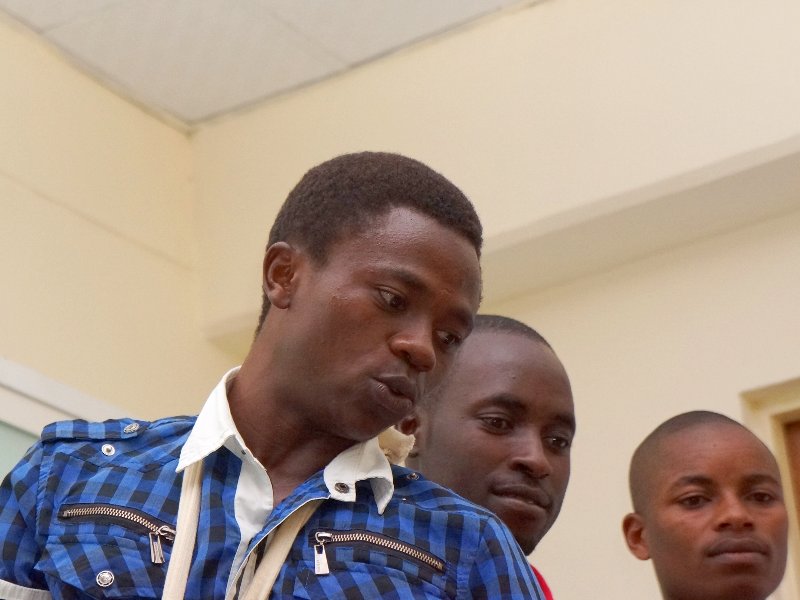 F, who is in fact studying Business, Economics and Finance at the Independent University of Kigali, known by its French acronym "ULK", while at the same time still working in an office job: