early December
Things are (mostly) fine, but I am certainly ready for the break. These two weekends we have no visitors staying, because university students are all preparing for end-of-term exams, writing proposals for their theses, and so on. My sister has made it to Uganda and will be arriving in Kigali five days before I leave, but M will get here the day after I have gone, so we can only meet after I have come back in January, before he starts his internship, which he will do in Uganda. While people say that Christmas is important, some colleges of the University will only start their break on the 26th.
At school, we are making progress in introducing proper accounting, but it has been slow: just deciding on a sensible 'chart of accounts', grouping revenues, expenses and assets, has required a lot oF thinking and discussion. Classes are fine, I am much happier with this year's grade 11 than I was with last year's – I think we all are. But an upcoming Sports Day, next Saturday, does rather disrupt the routine; I have volunteered to be in charge of tickets, but am not sure it is all worthwhile. I have started to mention to some people that I might want to work 'half time for half pay' from August.
There have been two major changes at the universities:
It will take a while to see if the creation of the University of Rwanda (UR), out of all the different public universities, can be made to work and will be a success. One reason was to get a higher total of published research papers for this new university than the institutions had separately – but just adding the numbers of papers does not mean that more or better research is being done. So KIE is now the College of Education, and the former NUR in Butare has become the College of Arts and Applied Sciences, I think.
It seems the government is trying to reduce the number of university students. After having had to backtrack on cutting the support loans for poor (i.e. most) students, they are now requiring universities to be stricter on admissions and on performance. So students in Level 1 (= freshmen, 1st-year students) who did not gain a pass in at least two core subjects in the National Exams are being sent away, even at the private universities. And, very surprisingly/encouragingly, this also applies to students supported by FARG, the government's Genocide Survivors' Fund: in the past, FARG-supported students sometimes even bragged, it seems, that they did not need to study hard for the National Exams, because they were sure to get a university place and funding: they only needed 11 points out of 55 or 60, while other students needed to get between about 43 and 55 points, depending on the subject, to be eligbile for just a loan. While I am sure this is the right way to improve standards, the change, even if it is just a belated implementation of a requirement introduced six years ago, should of course have been announced before the start of the year, rather than half-way through the first term, after parents have already paid the fees.
---
mid-December, in Berlin
As expected, school was busy to the end – see above; and I had to arrange for my classes for the week that I am missing. One reason for no longer wanting to work full-time is that I am a bit bored: when I started 4 1/2 years ago, it felt like it was half-work and half-holiday, but by now it has become all work.
Britta came to visit the last week I was in Kigali, having made her way to Rwanda slowly, from Kenya through Uganda. She stayed on, at our house, after I had left, but also went to the village with M, who did come back from university in Uganda just before I left; it felt a bit odd to be 'pushed' to the airport by her.
I then found myself bumped off the flight that I was booked on, (for reasons that I did understand, not the airline's fault.) But the airline did put me up in a nice hotel in Kigali and is giving me a (substantial) cash compensation. It also felt a bit odd to visit B and M again, (L having gone to the village.)
Pictures of the 'mice', (as in: "When the cat's away, ...") in various combinations: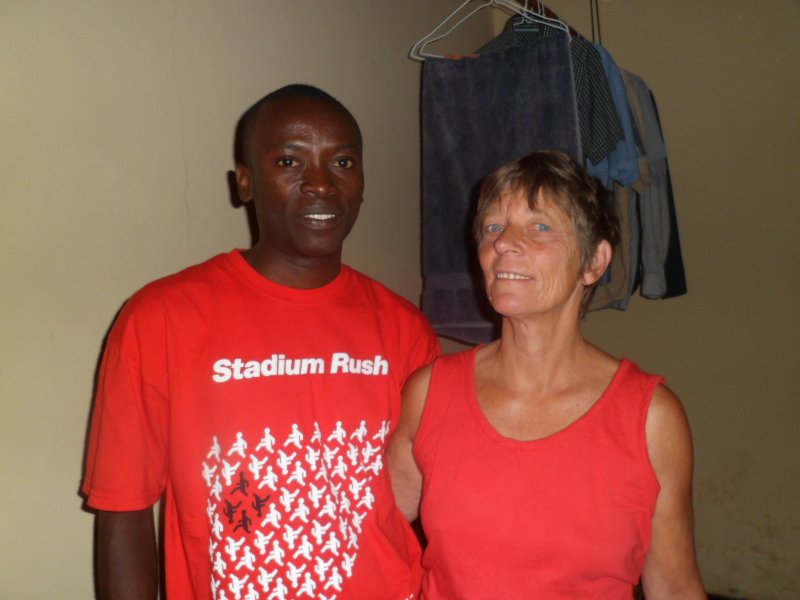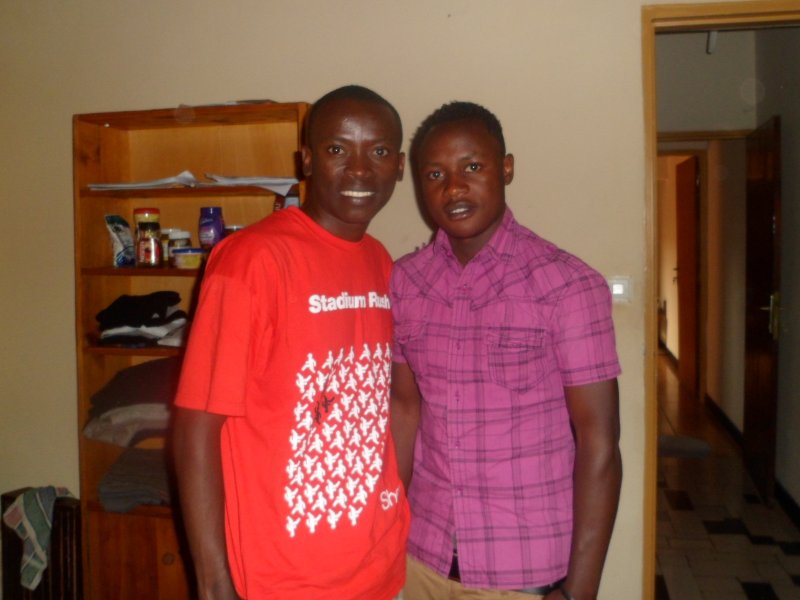 So for the next four weeks, I will be in Berlin, – relaxing: reading, going to concerts and swimming, eating cakes and drinking wine, cycling, seeing friends, but also doing some work (and avoiding Christmas, of course ...) – apart from a six-day trip to Amsterdam and the UK after New Year, before I fly back to Kigali.
Copy of an e-mail I have sent to various people I know in or from Rwanda, and will try to send to more people.
To:
From: Kai Arste
Subject: A very bad weekend
Date: 02 December 2013

Last weekend, on Friday night, a friend of ours and a friend of his from home were put in prison and kept there until Monday morning. I haven't met his friend, R, but I have known O for four years, and I know him as a caring, mild-mannered and completely honest person - otherwise we would not have recommended him to the muzungu couple at whose house he has been living and working for almost a year now. O finished Senior 6 two years ago and speaks English moderately well.

On Friday night, O and R [not their real initials: one has to be careful in Rwanda!] had drunk a few beers at a bar in Nyamirambo and then gone to a nearby dance place for some hours. They were smartly dressed and not drunk. As they were leaving at about 3am, and O was 'pushing' (= accompanying) R to where he could get a 'moto' (= motorbike taxi) to go home, they were stopped by local security guards and the police. O found himself grabbed by the front of his trousers by a policeman, sufficiently hard for the trousers to tear. When he asked the policeman to let go of him, he was hit on the side of the face, and when he asked what crime he was accused of, he was hit again, shoved into a vehicle and taken to Nyamirambo police station.

At the police station, about 100 people were being held that night, O told us later, including even some middle-aged men. (When we asked after O and his friend at the police station the next morning, their names were on a hand-written list of about four pages, with about 25 names on each.) They were made to sit on the ground, to take off and leave their shoes, and to hand over their phones and any money or valuables. O had to hand over his keys, but the policeman said that he should keep his coins, since he could not guarantee that he could keep them safe.

From about 8am, those 100 people, in small groups, were loaded into a truck, or trucks, and ferried to the prison in Gikondo. O had had his phone returned, so that is when he was able to call, to tell us what had happened. (When we arrived at the prison shortly afterwards, the place seemed closed and we were informed by a quite cheerful police woman outside that the earliest anyone would be released would be on Monday morning, we should come before 10am.)

In that prison in Gikondo
- prisoners were beaten at least once a day, with rounded wooden poles, mostly on the buttocks: this was called their "breakfast of sticks".
- on Sunday, all prisoners had their head shaved, very crudely, so that some men ended up with cuts on their scalp; (there is of course a risk, admittedly very small, of HIV being transmitted that way.)
- O received an extra beating, on the sides of his head and on various joints, when he appealed to a guard, very meekly, for a little soap.
- the new and short-term prisoners were made to sleep on the ground, the thin mattresses that there were having been occupied by earlier arrivals; the place was overcrowded and insect-infested - lice, I think.
- in the two days that he spent there, O and the other people detained the same night received just one meagre meal, on Sunday, of mais and beans.

On Monday morning, after a series of questions, about where he came from and what he had been doing on Friday night, all his answers having been written down, O was released to his employer and a friend of his, who had come to get him out, together with R. At no point during the whole of the two days had O been asked for any form of identification. On the way home, when they checked at the police station in Nyamirambo, O's shoes, which had been quite nice, were no longer there, and the policeman to whom he had been made to hand over his keys - for safekeeping! - denied having taken them from him, and that the conversation about coins had ever taken place.

While the police would presumably say that most of this "could not have happened", or claim that "O must have been provoking" them, and that "he must have lost the keys", and while the list of 100 names may have disappeared the same way as O's shoes, the facts remain that on that on Monday O no longer had his keys and shoes, that he had no hair on his head, that he experienced discomfort when sitting down - and that he had been released without charge. (O felt particularly bad about having had his head shaved, not just for reasons of style: since people in Rwanda tend to be quite uncritical of any authority, if they find out that you have been in prison, many will assume, and state it as a fact behind your back, that you have committed a crime.) Someone randomly put away like that for the weekend might lose their job too, for failing to turn up on Saturday, Sunday and Monday - and for having been in prison.

An earlier example of how one may end up being treated by the police happened when a Rwandan friend of ours, G, accompanied a young muzungu who had been living in the same place with him to the police station, to help him sort out a rent matter. When G tried to explain the matter to the policeman on duty, the first thing he was asked was whether he was the other guy's boyfriend! Since this was said in Kinyarwanda there is not much danger of it being "just a misunderstanding". In Rwandan culture this is of course an extremely offensive thing to say to someone, and cannot have been meant as "just a joke".

Now, where can one even go to complain about such things without having to fear being targeted in one's neighbourhood in future? None of the students I have encouraged to go to the Ombudsman's Office, after they had made their complaints directly to SFAR first, has dared to do so. (I have gone there, on their behalf, but the official I talked to simply denied that anyone would be worried about consequences they might face some time in the future if they made a complaint.)

I am sure you will appreciate that O's experience last weekend has been very disturbing for me too, because I greatly like it in Rwanda, and had thought, rather naively it now seems, that this kind of injustice could not happen here, at least not nowadays. It is certainly not the way the country tries to present itself to the outside world! Moreover, I have to say that, even being a muzungu, I feel rather less secure in Rwanda now and less hopeful that the country is on the right path.

Kai