begining of April
I guess this can't help being mostly about the pandemic, and how it is affecting us.
While in some ways the world has changed greatly in the last month or so, for me personally, while at home, it hasn't yet. Except that I have of course continued not to go to teach, although I have given some of the students feedback on parts of their projects that they had sent me, and that our ability to move has been severely restricted, with police and security on the road everywhere, challenging everyone who is moving about, (apparently people who cannot explain satisfactorily why they are outside are put in the stadium, far apart from each other, until the evening) although some friends who live in the same area have come to visit – one at a time, and they have to wash their hands before they touch anyone or anything –, using backroads and carrying a bag of food which they can they say they have been out to buy.
It seems that the government is trying to eliminate the virus completely, hoping to be able to make it go away, before they will relax the restrictions – but at what cost to the people in the country! Many people here, perhaps most, need to work one day to be able to buy food for their family the next; the government programme to provide food at the local level to those most affected seems to be very limited, and selective. Some people don't have water in their area for some days, and they are not even allowed to go out to fill their jerry cans. House owners have been instructed not to demand rent during this time – but for many, the rent they receive is what they live on; and what about the huge debts that everyone is going to come out of this with? Even if the restrictions are relaxed after two weeks and people are allowed to go to work again, many small businesses will already have been given up, so many people will have no job to go back to; and the government will have run out of funds to help people.
So, I have just registered for the German government programme to bring German, and perhaps other EU, citizens stranded here back to Germany; the Embassy has sent out information that there may be a flight some time soon, but no details yet. Now, I don't quite consider myself 'stranded' here – after all, I live here –, but
I was in any case supposed to leave in four weeks, at the end of the month, so even if I get on a flight next week, say, I won't be missing much 'Rwanda-time',
not being able to move around and meet friends as I want, I won't be missing much by leaving early: in fact, I have to say that my life here is much less enjoyable these days, (not least because of seeing the hardships experienced by others,)
while I would not mind much having to stay some extra weeks, if I don't go when I can, there is no guarantee that it would only be a few weeks extra: to be able to travel to Berlin with Turkish Airlines, the airport in Kigali has to re-open and flights must have been resumed from Istanbul to Germany,
I am very uncertain, worried, about how things will develop here, politically, and in terms of security, and of health: there might be an explosion of cases, or ...,
my staying on does not help anybody here: whatever support I can give my friends does not depend on my being in the country,
if I do end up getting very sick, I have a better chance of surviving in Germany than here.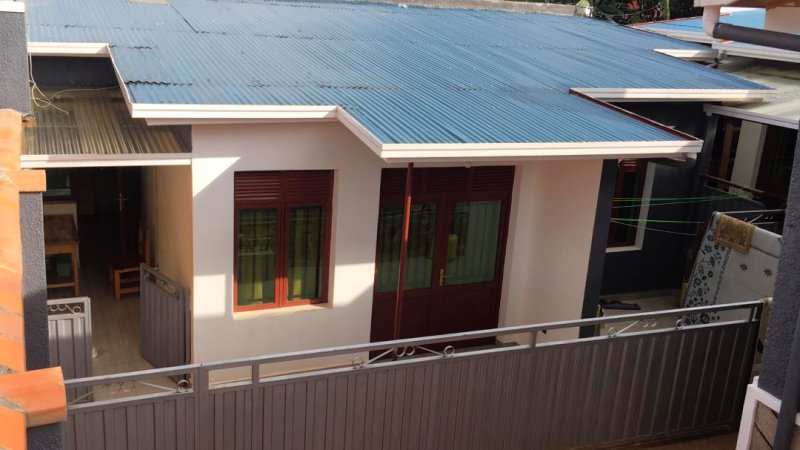 A picture (taken by M, who is staying there alone now, from the top of the outside wall) of our part of the compound and of our house – which is where I have not been since taking the flight of the German government's Rückholaktion in very early April, which landed me in Cologne, since when I have been in Berlin; and quite happy to be here.
---
During these five weeks, for most of which I should still have been in Kigali, I have done a lot of reading, gone on a bike trip every day, to get a cake and coffee to take away, or a snack to have outside, done my language practice regularly and some programming/editing, given feedback by e-mail to AIMS students on work that they have sent me, seen friends very occasionally, outside – and missed going to concerts. No one I know has been affected by the virus, yet.
While most things in my world are therefore almost (old-)normal, my travel plans are up in the air: I certainly won't be going to the US at the end of May, but might be able to make a – possibly shorter – trip later, and hope to make it at least to France and Italy before going back, hopefully in August, to Rwanda.
I can say that I've been pleased with how things have been handled in Germany and been very comfortable, with lots of public discussion (most of it more fact-based than political, unlike in the US) and people generally understanding (unlike in Rwanda, where the government acted as if one could catch the virus just by leaving one's home, and they could stop it completely) what is required and why we are doing this.