early March
Having delayed my flight by 10 days, because I wanted some more time in Berlin – but also because I was hoping that the lock-down there might be eased before I would leave, and worrying that the lock-down in Kigali might be extended – I arrived back on 21 Februrary, had another Corona-test upong arrival, and was taken to the hotel I had had to have booked to await the result. Which was negative, so I could go home, but was required to spend one week in self-isolation, which I think we managed to do very consistently, before going for another two required tests, rapid and RT-PCR. Which were negative, so then I was free to go out, have visitors, etc. – Everything was well organised, and the test results arrived very quickly by text message, but I was quite surprised that there was no check on me during the week of self-isolation.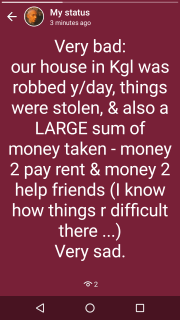 So this sad thing happened while I was away; (this is the status I put on WhatsApp – a gd way, I've found, 2 share s.th. w/ friends/ppl quickly – on 30 January.) It seems, from what Manu told me they had told him at the police station, that the person behind it was the young guy looking after these houses, who had often hung out with M, and who put two other guys up to it, as well as stealing things from another house: he is in prison and has apparently confessed, they are still (and may well remain ...) at large. – Other than that I found things mostly alright when I came back. Except that it has been VERY wet and cold: in earlier years I used to be able to go swimming regularly at this time of the year; (but right now pools are still closed anyhow.)
While in Berlin, I worked with some AIMS students, giving feedback on things they had sent me and certifying English translations of transcripts in French, but next week is reading week, and so I will only start classes again in the middle of March; suits me fine. I'll be here for three months anyhow, till 20 May. – Talking of AIMS students, I am pleased that one of last year's, in fact the one with whom I had talked the most, over meals etc,. has ended up doing a Ph.D. in Maths in Poland, and that he met up with Oliver a couple of weeks ago, and that they apparently got on well.
The usual biannual list of students whose education I/we are supporting (– although with different schools and universities having closed at different times, because of the Corona pandemic, their academic years are largely not in step):

Oliver should be finishing his two-year Master's course in Rzeszow this summer, but he will probably not come to Kigali for some weeks this summer, as he had been keen to do, because of the continuing restrictions.
Having finished his course in Economics/Finance in Poznań two years ago and having started to work, Laurien felt that to get on, he would need a Master's degree, so he goes to Wroclaw (which is where Benjamin is working) on the weekends for that.
Bango has started the last year of his four-year course in 'Land Survey' at INES (Institut d'Enseignement Superiéur) in Musanze (the former Ruhengeri, about three hours to the NW from Kigali) and seems to be doing well.
The same holds for Frank as for B; like him he comes to Kigali sometimes and then usually stays with us as well.
Eric's school, where he is continuing to do Media Studies, has messed around the students quite a bit, and he has had to travel no Nyagatare, some four hours from Kigali, every weekend for his courses. (I now feel that his change of course and college may have been ill-advised.)
Alice, who has been M's ex since February, will start a (very delayed: we don't know why some colleges of the U of R will only open in June for returning students) 3rd year will be living on campus this year.
Having failed his National Exams two years ago, when he was studying IT and not committed at all, (but I/we were not supporting him then,) Ulrich is going back to school, this time for Tourism; his uncle is paying half of his fees.
Africa, who had had to drop out of school some years after his parents died, is now in Senior 6 and will have his National Exams this year, in the 'option' of IT.
Manu has been learning German, on-line and now also with me, and mostly been quite serious. The plan: if he manages to reach A2, I will pay for a 12-week course at the Goethe Institut to reach B1, and with that one can apply for apprenticeships in Germany, a great long-term option.
Because of schools being closed for some months, Chance, Pascal's niece, is still in Senior 6 at a government boarding school, where she is studying the 'option' of Computer Applications.
M's sister, Jacqueline, is also in Senior 6 now, and will soon take her National Exams in the 'option' of Hotel Management.
M's borther, Tresor, is in Senior 3 and will take the O-level exams this year.
C's brother Fabrice, now about 13 years old, ...
A friend in the US has continued to give me money to help U's family, themselves not rich, look after Lincoln/James, a lively kazungu boy whom they have kind of adopted because his mother can't look after him.

As always, I am very grateful for the extremely generous support I get in supporting these students – from friends of mine who don't even know the people who their money is going to! Thank you so much.

---

And 'supportees' who have recently finished:

Roger has just finished his four-year course at ULK, in Economics, after successfully defending his final-year thesis some weeks ago, and will soon have his graduation.

(Some of the people I/we have been supporting through their studies continue to need financial help, sometimes for a long time, before they can find a job, so I needed to make my own 'scheme' for that: Modeste, for instance, is still looking for a position as a nurse, whether here or abroad.)